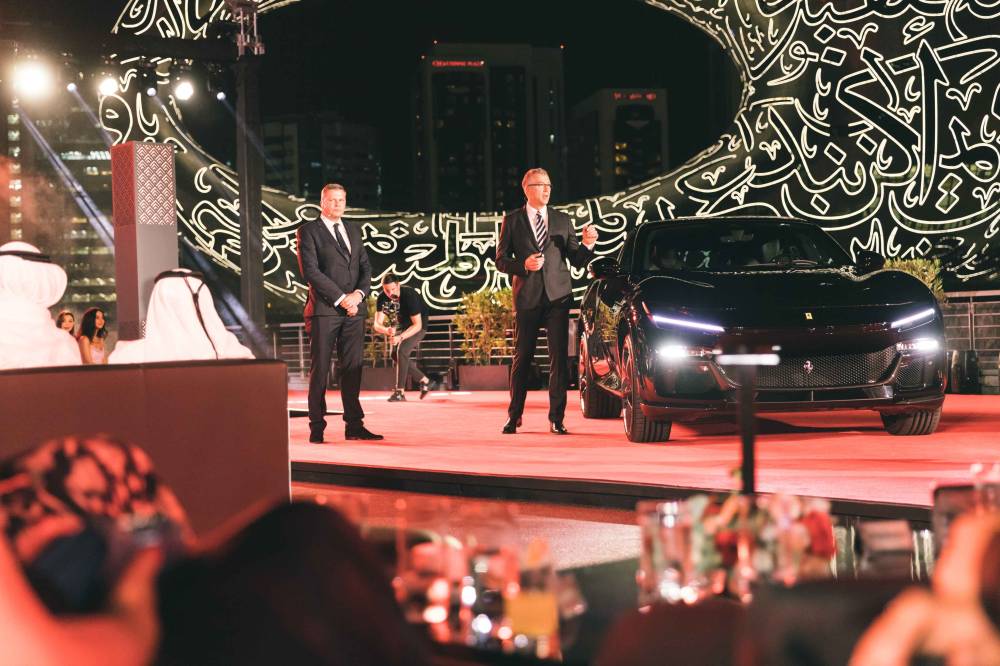 Dubai: «The Gulf»
Ferrari unveiled the Burusangui at the Emirates Towers in Dubai in the company's first appearance, and this car is the first ever four-door and four-seater model from the Italian brand. The region is witnessing the entry of the new car to its markets for the first time after the world premiere on September 13 last, which reflects the importance of the region to the global sales program managed by Ferrari.
The event attracted a group of the most prominent Ferrari enthusiasts from across the Middle East and the region of India.
Giorgio Toure, General Manager of Ferrari in the Middle East, welcomed the guests, and Dieter Känstetel, President of Ferrari in the Far East and the Middle East, and Emmanuel Carando, Global Head of Product Marketing at Ferrari, gave a special speech and revealed, through a presentation, the distinctive new model.
Ferrari has done its best to make the launch of the Burusangue an exceptional event in every detail, combining the luxury, strength and audacity of the Italian brand's cars with luxurious hospitality, reflecting the spirit of the Ferrari lifestyle.
After the event, the car headed to the Yas Marina Circuit in Abu Dhabi for an exclusive exhibition tour, with the start of the first races of the 2023/2022 season of the Ferrari Club Challenge in the Middle East, which is held with Passione Ferrari.
2+2 cars, with two front seats and two smaller rear seats, have been a major part of the Italian brand's strategy since its inception. Several Ferrari cars have combined the two criteria of exceptional performance and excellent comfort. Today, based on the outcome of 75 years of advanced research, Ferrari has succeeded in producing an amazing car that combines the elements of strong performance, driving pleasure and comfort, in addition to the great appearance that is an essential aspect of the philosophy of the famous Italian brand, which gave it the name Borosangoy, which means purebred horse in Italian.
The Burusangoy outperforms its peers in the market thanks to its exceptional performance and comfort features, as it is the only car that combines sporting characteristics with a naturally aspirated 12-cylinder engine installed between the middle and front of the car, which is the highlight of the all-new Maranello engines and provides exceptional performance that guarantees The car outperforms its peers in the same class (725 hp).
Source link